< BACK
WIRELESS SOLUTIONS - SOTI
Enterprise mobility is a complex management challenge. Enterprises are looking toward the anywhere, anytime, any device workplace, with mobility driving differentiation and competitive advantage in their business. A combination of purpose-built devices, corporate-liable smartphones, tablets, and BYOD devices is necessary to drive productivity and business growth. However, this can be difficult to manage with numerous point solutions. The future of mobility management requires a one solution approach that spans across every endpoint. SOTI unifies mobility management from a single management console, removing the complexity from managing a multi-OS, multi-vendor, and multi-purpose mobile ecosystem. SOTI provides best-in-class enterprise mobility management to help enterprises extend mobility throughout the entireorganization. Building on our long and successful track record of mobility management, SOTI provides powerful security and management across all mobility endpoints with a single solution to maximize business value of your mobility investments. SOTI MobiControl, our award-winning mobility management solution provides the ability to securely manage mobile devices and connected peripherals, applications, content, and email. With MobiControl's advanced security and management features, businesses have granular control of how mobile devices are used for business, and how data is accessed to ensure sensitive corporate information is kept in authorized hands only.
Manage All Devices from a Single Pane of Glass
Enforce security policies and best practices while supporting diverse user requirements in a virtual environment that accessible at anytime, anywhere and from any device.

Enhanced Enrolment with Zero IT Intervention
Deliver over-the-air device configurations for email, WiFi, VPN etc. at a granular level based on various criteria including device properties, custom attributes/data and more.

Remote Control & Remote View
Live, real-time support with the fastest and most reliable interactive remote control of Android and Windows devices for optimal Helpdesk capability and troubleshooting. Remote view and advanced device management is available for iOS devices. Rapid provisioning with integrated MobiControl Stage gets employees productive sooner.

Real-Time Geo-Aware Policies
Accurate geo-location device tracking and user-behavior monitoring enables the creation of a virtual boundary around a geographical area to trigger alerts and pre-defined actions when devices enter or exit the boundary.

Connected Enterprise with Zero-Touch Configuration and Management of Smart Peripherals
Quick device provisioning and remote support for connected peripherals. SOTI offers the industry's tightest integration with connected printers and other peripheral devices, minimizing downtime with the ability to manage device profiles and new devices remotely.

Flexible Deployment Architecture
Flexibility to deploy your mobility management solution as an on-premise solution or as a subscription in the SOTI Cloud. SOTI's delivery options cater to organizations of all sizes, no matter what their business or security requirements.

Safeguard from Mobility Threats & Viruses
Best-in-class authentication, certificate management and data encryption provide enterprise IT departments with peace of mind that their devices and data are never compromised.
Secure Content Library
he ideal platform for securely distributing and managing corporate content to your mobile workforce.

Enable Access & Privacy of Corporate Email
Administrators can create email sharing and forwarding policies to protect against data leakage and inadvertent disclosure of sensitive company information.Empower Employees with Corporate Applications Get the right applications to your mobile workforce in a fast, secure and scalable manner. Applications can be silently installed and deployed with no employee interaction required.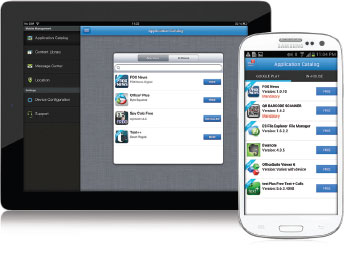 Advanced Security Management
Configurable lockdown policies with Kiosk Mode allow administrators to block use of the operating system by replacing the device home screen with a customizable screen that limits users to select applications only. And if a device is lost or stolen, IT Admins, or even the user can remotely lock, wipe or locate the device.

Intuitive User Experience
Best-in-class experience when accessing corporate content, applications and messages all within one easy-to-navigate application.
Advanced Mobility Management for Business Transformation
Enterprise mobility is central to an overall IT strategy to accommodate a fundamental shift towards connecting people, processes, and endpoints that need to be managed with a consistent set of security and privacy policies.

Extending Mobility Across Your Entire Business
SOTI recognizes that mobility management is not one size fits all. Enterprises have different deployment requirements, and SOTI offers a flexible solution that can accommodate all models of enterprise mobility deployment. BYOD: Employee-Owned Corporate-liable: Corporate-owned / Personally-Enabled Line of Business – Corporate-owned purpose-built and consumer devices